Well I have been absent from blogging for awhile now..... have I missed it? Yes and no, part of me was wanting to blog but when it came to it I just felt I had nothing to say, if that makes sense, not really sure I have anything to say now, but feel it is time I get back into the stride of things. Like everyone else in the world life is full of ups and downs and it all seems to be at one speed these days and that is full speed.... I really don't want to be doing full speed any more but how do we stop it??
A year ago today I woke up in a London hotel at 7.20am knowing I was not going be able to sleep for over 24hrs as at midnight Sue and I would be starting our biggest challenge ever by taking part in the London Moonwalk - 26.6 miles. I wish all those that are taking part in tonight's Moonwalk the best of luck.
The sense of achievement from taking part in that event has been strange. First of all there was the disbelief that I actually did it as I felt so good after it all, the leg was still uncomfortable but no where as bad as I had expected it to be, the hips were fine and I felt fine, not even that tired to be honest. Mick couldn't believe how good I looked when I got off the bus!!!
After a few weeks/months and it all became a distant memory I started to notice changes in me. I would be going to do something and be saying the usual "I can't do that" " I am so nervous" "I can't complain" etc etc and at the same time I was aware that although I was saying my usual catch phrases I wasn't feeling the same way, no usual nerves, no doubting myself or my ability. I would go to meetings at work and voice my opinion and then look behind me and say where did that come from???? I would come home and say to Mick "I just did......" or " I said....." and all this was so out of character for me but at the same time I was happy with it. I kept expecting the 'new me' to disappear and I would go back to being 'me' but it hasn't instead I have kept feeling changes within about myself.
The downside to these changes has been the major lack of motivation to get on and do things or to take on a new challenge nothing seems to be grabbing me at the moment and giving me that sense of "I want to do that" - hopefully it will come back soon as it is really starting to irritate me. Admittedly leg wise I have been restricted as to what activities I do as most aggravate the shin, but that has now had a fairly good rest and I think it should be able to cope with some level of exercise!!
I met up with Yvonne yesterday and she said that sometimes you need a good length of time out to recharge your batteries before starting again (or words to that effect) and it - like most things she says made a lot of sense. So I feel that I have had a year off and hopefully now I can start to find my old energy levels again as I do miss them.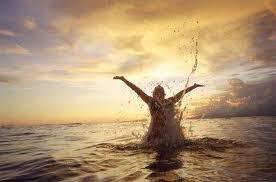 Pinched from the internet.